Thank You, Mandosio Homes.
We chose Mandosio Homes to build our house, for a number of reasons:
– Paul Mandosio had a good reputation for delivering quality workmanship
– They gave us the option to design our house to accommodate our specific needs and ideas and worked closely with us to ensure we achieved a floor plan we were very happy with
– Our input into the project was encouraged
– An assurance that communication between ourselves and the builder was a high priority
– To meet regularly on the site with the builder during construction so we could see first hand the progress of the project and the quality of the workmanship for each trade
We insisted that all workmanship had to be first class. We did not want the construction of the house to be strung out and asked for all activity on the house to be well scheduled with minimum delays. Paul Mandosio gave us an undertaking that our expectations would be met and indeed they were.
Before firm arrangements had been put into place and as a service provided to clients the builder liaised closely with us as to the soil type of our block of land, the site earthworks required and how to maximise the best use of the property with regards to the positioning of the house on the land.
Mandosio Homes managed very competently all stages of the project starting with the final design, preparation of all ancillary plans for council approval and preparation of the building contract flowed with no delays. Once the project started there was very little delay between each stage of construction. The builder always kept us well informed of the progress throughout the construction.
The work site was always tidy and we could not see any evidence that building rubbish had been left lying around the site. For safety reasons the builder always accompanied us at the work site.
At completion we were very pleased with our house. We were impressed by the quality of the workmanship which was very evident throughout the house. Mandosio Homes certainly built for us a home that was exactly what we had envisaged when we started the project. The estimated building time was spot on resulting in no disappointments for us.
The very minor maintenance items were attended to promptly by Mandosio Homes.
It was very gratifying for us that building excellence awards by the MBA were awarded to Mandosio Homes for our house.
From start to finish including the actual construction and administrative aspects of the project building with Mandosio Homes was for us a very enjoyable experience. We would definitely build again with Mandosio Homes.
Warmly,
Steve and Jenny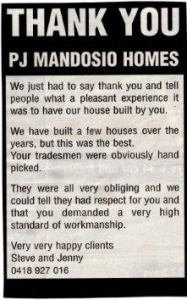 (Newspaper Testimonial from Geraldton Guardian)